Digital Signage for Restaurants
Digitalization increased massively in gastronomy businesses in the last few years. Especially fast food restaurants recognized the trend towards digital and are successfully using digital signage solutions in their locations. Even traditional restaurants and small eateries are trying to use digital displays in increasingly sophisticated ways to attract customers and boost business. In this article, we highlight for you the innovative possibilities offered through digital signage in the restaurant industry.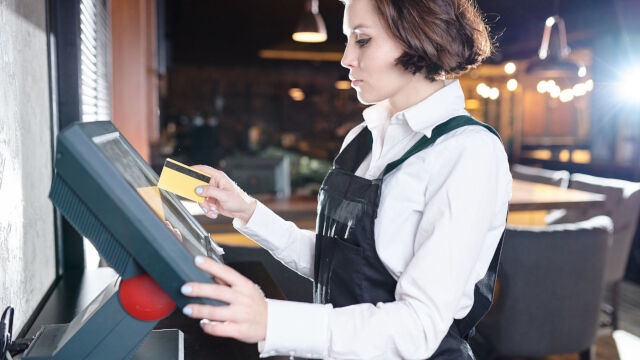 How can digital signage be used in the restaurant industry?
Hospitality businesses have been successfully using their indoor as well as outdoor spaces for advertising for decades. However, digital transformation through electronic signage (aka digital signage) offers more marketing benefits and better communication with customers compared to traditional print advertising.
There are no limits to the use of digital signage in the restaurant sector. Some best-known examples include:
digital menu boards
electronic billboards
Digital signs (e.g., price tags and door signs)
electronic display monitors, bulletin boards, and billboards
interactive touch displays and terminals as PoS cash register systems
All digital signage devices base on the same technology for publishing information and managing different content. The use of a professional digital signage system makes it possible to use multiple digital displays in one or more locations at the same time.
Digital Menu Boards
How can your food offering presented to customers in a way that boosts sales? Fast food restaurants and similar catering businesses are increasingly turning to digital menu boards. These are digital illuminated menus in the entrance, checkout or outdoor areas. The electronic menu board clearly displays the offer including prices to customers in large format. Guests who attach great importance to fast service make their choice while waiting in line.
An electronic outdoor advertising board also has a positive effect on sales. Digital menu boards attract the attention of passers-by with appealingly designed dishes.
Because passers-by feel better addressed, restaurants and snack bars are increasingly replacing their price boards or blackboards with digital menu boards. In addition, the ability to dynamically display and customize menus makes the use of these menu boards particularly flexible. Smart digital menu boards are revolutionizing cafés, restaurants, and fast food restaurants around the world and are playing a major role in increasing sales.
Another option — especially for more traditional restaurants — is offered by menus as fixed stand-alone devices or tablets directly at the tables. Depending on the standards of the establishment, guests could even order directly with them. In addition, the devices provide, if necessary, with games and short films for employment while the guests wait for their orders.
Digital Information Boards
Digital information boards offer another option for scattering information. These are often positioned on walls within a restaurant. Information boards inform visitors about special daily prices, promotions and certain meal combination options. This is representing the in-store marketing solution for restaurants.
Thanks to integrated geolocation, digital signage devices display relevant information related to the region on their screens. This includes regional news, traffic data for drivers, public transport schedules and weather forecasts.
Using a digital signage system allows you to control digital advertising displays across multiple locations easily and conveniently from the manager's office or corporate headquarters. From there, you or your employees administrate new content. Such panels for gastronomy can be found not only in fast-food restaurants but also in cafés, bars, and nightclubs.
Digital Billboards for Refinancing
An electronic advertising board for restaurants is a potential source of advertising revenue for local operators. This digital advertising space offers space for third-party advertising and comes with many benefits. In addition, the display area in the restaurant can be enriched with additional online information from the Internet besides broadcasting advertising content.
The important thing here is that the operator of the digital signage system can decide for himself what content should be displayed to customers on the gastronomic advertising board: News feeds on a specific topic, video broadcasts of sporting events, culinary programs and shows on YouTube, music videos, Facebook, Twitter, or Instagram feeds on the monitor.
Who can become advertisers?
Visitors to restaurants, bars, and cafés usually want to relax and enjoy themselves. Advertising must, of course, provide positive and useful added value, otherwise it does more damage than benefit. Suitable advertising content can be ads for services such as cab services, flower deliveries and cultural events.
The use of digital signage solutions is very multifaceted and offers further interesting fields of application.
Examples of Content in the Hospitality Industry
Image motifs
A digital board is very suitable as an image motif. Inform customers about awards won or point out a unique selling point: "Best Restaurant", "Restaurant of the Year" or "Our vegetables and fruits are organically grown".
Restaurant History
In addition, the restaurant can present its long experience and tradition to its guests through digital display devices.
Guest Portraits
If the restaurant hosted extraordinary personalities such as world-famous actors or politicians, restaurant visitors can be informed about it by using a DS display.
Staff Portraits
The restaurant's staff team can introduce themselves to diners on a digital canvas in the form of personally signed portraits and a favorite quote from each staff member.
Where can the Displays be placed?
The effectiveness of digital signage systems depends heavily on the proper placement of the displays. Depending on the use case, different places are suitable for the placement of the digital displays, such as:
Facades
Restaurant storefronts
Entrance and cashier areas
Restaurant halls
Toilets
Tables and counters
Outdoor Advertising: Facades
Digital bulletin boards and billboards play an important role in outdoor advertising. They draw the attention of passers-by to the restaurant. The most important aspect here is the eye-catching design, which should encourage people to visit the restaurant. Facade walls are a suitable surface for these large-format digital eye-catchers. Digital pin boards are a very effective form of outdoor advertising and can increase the number of visitors in the long term.
Outdoor Advertising: Store Front
Placing displays in a storefront window should attract the attention of passers-by, just as outdoor advertising displays do. The monitors can display information about marketing events, restaurant menus or cooking videos.
Behind the Bar (Menu Boards)
An optimal place for digital menu boards is behind or above the bar counter. From there, customers have a direct view of all the food on offer. Some bars and cafes also like to use monitors for social media posts to increase visibility and reach.
On the Bar (Small Signage Displays)
In traditional bars or restaurants, orders are taken by bartenders. In bars that rely on digital signage solutions, in addition to the traditional option, orders can be taken directly at the counter using a digital menu board (small signage displays) placed there. It saves time and increases the quality of service because it can avoid ordering errors.
Interior
Inside the restaurant, displays are placed not only to promote the services of the establishment, but also as part of the interior. Therefore, in the main hall of the restaurant, displays are used to create a special atmosphere in line with the concept of the restaurant. Advertising messages should be presented there unobtrusively, so as not to irritate customers.
Toilets
Digital signage can also do its job as digital signs when going to the restroom. Once there, visitors are further entertained and provided with information during their stay with digital information and advertising displays, usually placed on walls.
At the Tables
As mentioned above, it is quite common in Asian restaurants to use touch screen devices directly at the table. Guests can order there, play with each other, watch movies or charge their mobile devices via USB port. One of our partners offers such a tabletop display with two screens. Table Displays for Restaurants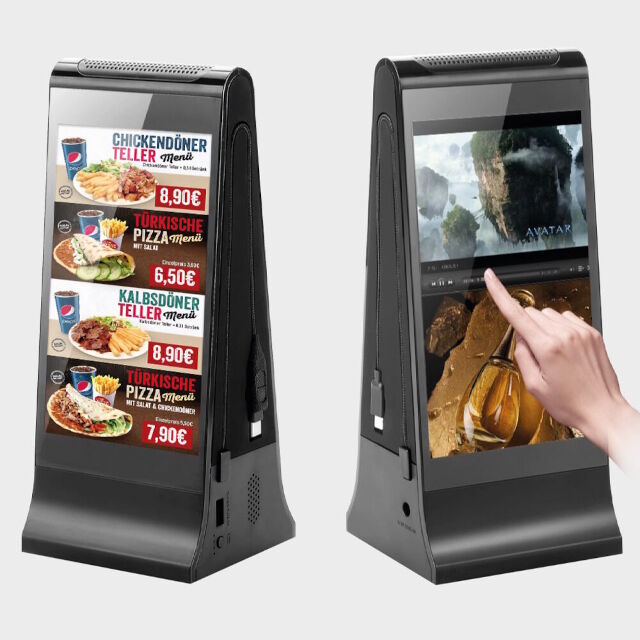 Why is digital signage worthwhile in the Restaurant Industry?
Using digital signage solutions in the restaurant industry improves the quality of service. This, in turn, increases loyalty and the number of regulars to the diner. In addition, digitalization reduces paperwork and creates fewer misunderstandings. Thanks to professional digital signage systems, restaurant managers generate important daily reports such as statistics on ordered dishes at the touch of a button.
The manager can view the status of processed orders at any time, or receive information on which channel the dishes were ordered. This helps to economize the purchase of food and simplify storage. The calculation of the use of materials improves significantly. In addition, restaurant guests can leave their feedback on the service quality in the restaurant or café via interactive digital signage display devices and contribute significantly to the optimization of service quality.
Which software can be used for this?
Professional digital signage systems include special content management software. Our software makes it easy to create high-quality content based on ready-made templates, create a schedule, and play a numerous media files.
In addition, you need a stable and flexible solution for the operation of your screens. We offer you various possibilities to use different digital signage players.
Menu software, games, and other interactive elements of your digital signage program implement cost-effectively with a technique called digital signage widgets.
In addition, our system has a centralized management function. Centralized content management and digital menu software are especially important for restaurant chains and franchises. With their help, you transmit price updates and promotions simultaneously to all branches of the chain.