Digital Signage Totem
Digital Signage Totem
What is a Digital Signage Totem?
A digital signage totem is a multimedia stand system with a display and an integrated media player. We differentiate between two types of totems. Outdoor and indoor.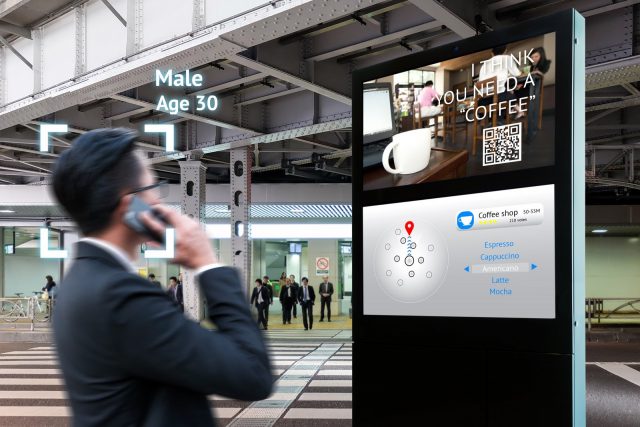 Outdoor Totem
The outdoor totem withstands different weather conditions. For example, direct sunlight, rain, and snow. Weather conditions. Therefore, the displays require special properties.
They are certified for continuous operation, tolerate large temperature tolerances and shine particularly brightly. Often, these columns have a light sensor to automatically adjust their brightness to the lighting conditions.
Outdoor totems are also built very robustly to protect them from vandalism. It goes without saying that no cables or controls exist outside.
Indoor Totem
Indoor totems usually come in a slimmer form and do not need this extreme robustness. Unless of course they are used in public areas as so-called Public Displays.
Digital signage totems can additionally include touch function.
Advantages of Digital Signage Totems
Remote Administration
Content is exchanged in a timely manner using a web-based CMS. In the event of an error, the column can be maintained and administered from the control center.
Multiple use
You can use mobile pillars for different events. Printed information becomes outdated in terms of content or no longer fits the current advertising concept. Digital totems are more economical in the long term because they have a much longer life and use.
Longer-lasting content
Posters get ugly "wrinkles" in inclement weather or can be torn down. This can't happen so easily to a totem that is designed to be secured against vandalism.
Public image
Well illuminated displays cannot be overlooked. Information, news, or advertising messages will be able to be displayed animated in perfect quality. No matter if during the day or at night. Totems look modern and create a contemporary image.
Respond flexibly to different target groups
.
Schedule content playout based on time for different audiences. This can depend on the day or time of day. Spontaneous playouts also become possible. This makes spontaneous recordings possible and there is nothing standing in the way of individualized advertising.
Can be used as a self-service solution
.
Save time, money and relieve your employees with an interactive stele. Guests and visitors can determine service or information easily themselves.
Applications for Digital Signage Totems
Exhibitions and Trade Shows
For trade show operators:
Give your visitors an overview and clarity. Describe which company has its trade show booth in the respective hall. Let visitors search on interactive totems or display the directions leading to you. Likewise, content can be printed out or downloaded to a cell phone via Bluetooth.
For exhibitors:
Present yourself as an innovative company. With an impressive video presentation and modern advertising you will become a crowd magnet.
Tourism
Promote in cooperation with local stores and service providers. Show interested tourists the sights as digital showcases right away with directions. Provide tips for things to do and "must-see" attractions.
Culture and party organizers
Interested customers can purchase and print concert tickets at an interactive terminal outside business hours. Generate more attention by enhancing events with animations and videos. With digital signage marketing you also no longer need to worry about expired events. They will disappear automatically, unlike the conventional totems.
Company premises
Access controls can be automated. Gatekeepers and security guards will be happy, and they will save costs. Protect your building and thus your property and data from theft.
Also, inform employees of work instructions and resolutions or direct visitors to find their way within the building.
Hotel Receptions
Show your guests what's going on, and where. Let them interactively explore the facility and its options for leisure and entertainment. Provide rating opportunities to keep your services and reputation high through regular feedback. Alternatively, offer a self-service check-in for the hotel to reduce wait times.
Airports, Train Stations and Stops
An info terminal automates check-in or baggage check-in. Display ads tailored for business customers on weekdays and ads for families on weekends. Entertain travelers with entertaining programming and show "unobtrusive" advertising.
Hospitals
Not only useful with regard to Covid-19. Control body temperature and disinfect hands automatically. Display helpful route and position descriptions in front of elevators and areas or inform visitors to put on the mask before entering. Digital signage in hospitals improves communication and reduces costs.
Authorities
With an interactive stele, visitors fill out applications for vehicle license plates, for example. Digital call systems can also be integrated. Make waiting times more pleasant with helpful tips and entertainment.
Our offer for your Digital Totem
We place great emphasis on security and remote administration when developing our digital signage software. We know from experience that on-site technician visits are one of the more costly aspects of maintaining digital signage columns.
That's why our approach is to prevent technician interventions as far as possible.
Our digital signage player runs with almost any operating system. With the SmilControl CMS, it offers valuable functions for the administration of your advertising monitors.
You boot the system with one click. Installing, configuring or updating software is also no problem on totems with our launcher-player combination.
Detailed log and report functions help you monitor the "heartbeat" of your devices. You even receive an availability report at the push of a button. From this, you can determine how the totem behaved online over the past few weeks.
If there is a fault, this allows you to quickly isolate problems and save costs.
Interactive terminals ensure that only the service technician can get access to it. Even in the unlikely event of a total crash of the player software, a random user on site cannot access the UI of the operating system. Thus, he cannot cause any damage.
Want to learn more about software for digital signage totems? Contact us.