Outdoor Screen
Outdoor Screen
What is an Outdoor Screen?
Outdoor screens are monitors for outdoor use. They are often used in so-called digital signage totem. Outdoor displays decorate building walls either as huge LED billboards or in combination as video walls. They are either mounted directly on the wall or stand on specially built steel scaffolding at highly frequented locations. Accordingly, outdoor screens have to meet special requirements.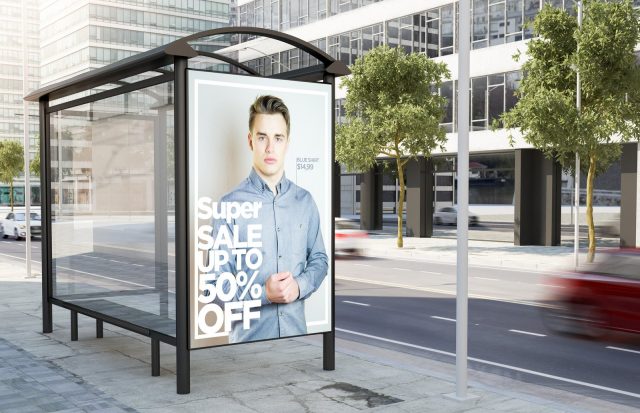 In order to withstand different weather conditions, this type of digital signage equipment is built to be extremely robust and waterproof. Accordingly, both the housing and the specifications of the panel used must withstand any weather. For example, the panels can be exposed to high temperatures. At the same time, the devices contain heaters and air conditioners, respectively. Special certifications and markings according to protection classes are mandatory for this digital signage solution.
All this is reflected in the price, of course. The monitors designed for outdoor use are therefore significantly more expensive than conventional displays.
Of course, outdoor screens can also be used as interactive touch terminals.
Advantages of an Outdoor Screen
Continuous Operation Day and Night
Outdoor LCD monitors feature a certification for continuous operation. For example, the manufacturer certifies whether the device is usable for 24/7 or 18/7 use.
No TV license fees
Outdoor monitors will usually be shipped without a TV tuner. So, you will save the TV license fees.
Higher Brightness
Content on outdoor displays competes with sunlight during the day. As a result, these devices shine enormously brightly. Often they have light sensors to automatically adjust your brightness to the ambient light. Normal TVs shine with about 250 – 400 cd/m², outdoor screens at least 10 times as bright.
Long Life
Due to robust construction, the LCD screens have a higher life expectancy than conventional monitors. Whether in rain or strong sunlight, the housing withstands all weather conditions and is therefore perfect for continuous operation.
Extreme Temperature Ranges
It is possible to get devices for extreme operating temperatures specified from -40 to +75 degrees Celsius. Especially in warm summer temperatures, passers-by like to wear sunglasses. With the additionally available filter systems, the advertising on the LCD display can be read despite sunglasses and high sunlight.
Saving money
Printing and putting up posters costs money. A monitor that can be maintained remotely will save you these costs.
Applications for Outdoor Displays
Tourism
On the one hand, this type of digital signage solution offers the possibility to present sights or directions to them. On the other hand, restaurants, retailers or corresponding outdoor activities can be advertised. Conclude advertising contracts with local service providers, event organizers and stores. Suggest interesting biking and hiking trails. Tourists can book and print tickets at an information terminal.
Bus, Tram, or Train Stops
Entertain people while waiting for the bus. Play ads to different audiences based on time. Display important news or when the next bus or streetcar is coming.
Ecologically Sustainable Roadmaps
Operate timetables in an ecologically sustainable way with so-called e-paper and that in all weathers. An e-paper uses 99% less power than an LCD or LED display. New content arrives at the timetable via mobile radio communications. With suitable solar radiation, it is completely independent of the municipal power supply. Your electricity costs drop to zero. Dreams of the future? No, since 2019 reality. This article of the Sixteen Nine magazines describes an (Australian project for bus stops)
Street advertising
Save money by converting your billboards to LED screens. Printing and logistics costs are eliminated. They get all the conveniences of digitalization. You can create much more awareness with videos than with static billboards. And they can do it both during the day and from a distance, clearly visible at night.
Restaurants, Gastronomy, and Retail
Provide brilliant eye-catchers in front of or at your restaurant or store. No matter what the weather. Stop passersby with current offers and increase your foot traffic.
Our offer for Outdoor Screens
That they can, of course, take advantage of all the benefits of a modern digital signage playlist and content management goes without saying.
Software for outdoor screens, however, requires some functionalities beyond that:
Remote diagnostics
Remote administration
High security even in the case of an error.
Our digital signage player "garlic-player" with SmilControl-CMS offers you these important features.
You will be informed about the current status (heartbeat) of your devices at any time.
In the case of an error, extensive log files and availability reports ensure that the problem is contained.
The ability to configure and administrate the device remotely often prevents the costly field operations of technicians.
We give your interactive terminals even higher security.
Our specialized digital signage launcher for Android "garlic-launcher" reliably protects your outdoor screen from hackers and malicious damage.
A normal user in front of the info terminal cannot get to the operating system level even if the player software crashes. Only a service technician can do so.
Have we made you curious? Contact us for more information.