Outdoor
Pharmacy storefronts provide customers with valuable information on current medical topics at any given time. In this way, the pharmacy uses its digital signage display window to advertise medication for colds, sunscreen for vacations, or reminds customers of vaccination appointments.
At the same time, they also display their opening and on-call times there.
Storefront Advertising
Another way to use storefront advertising digitally for your business is in the pharmaceutical industry. Use the devices as digital advertising space. Establish advertising partnerships with both industry and local businesses in related industries. Play their advertising clips and kill two birds with one stone.
Receive high-quality, thematically appropriate content from the pharmaceutical industry. This gives you the opportunity to refinance a significant part of the investment costs for larger digital signage installations.
Display Emergency Services
In Germany, out-of-hours pharmacies must post the addresses of at least two nearby pharmacies on duty on a prominently displayed emergency service calendar. What could be more obvious than using a fully automated emergency services screen? No one has to worry about changing signs or posters anymore.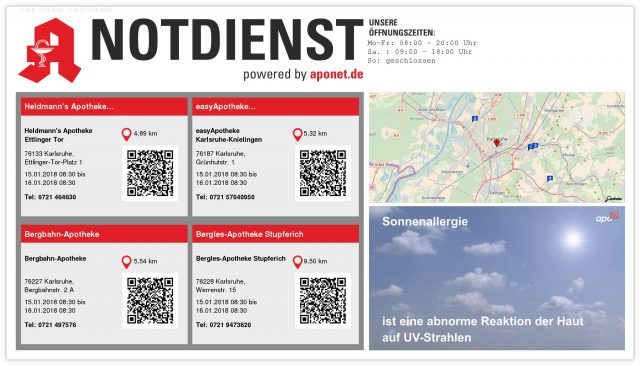 The display updates itself automatically and shows a map with the respective locations. Via QR code, the user calls up the location in Google Maps and gets the route displayed. The emergency service display receives its data via the interface to the Aponet service. The user only has to enter his location.
Such an emergency service in itself provides the pharmacy with a tangible added value. Searchers are also pleased to receive a straightforward display without having to deal with possibly cryptic legends of complex emergency service calendars.
Of course, it is also possible to integrate advertising and additional information into the emergency service display.