Hospitals
Digital Signage in Hospitals
The use of digital signage technology in healthcare is an organic process of introducing modern forms of work into the organization of hospitals and medical care.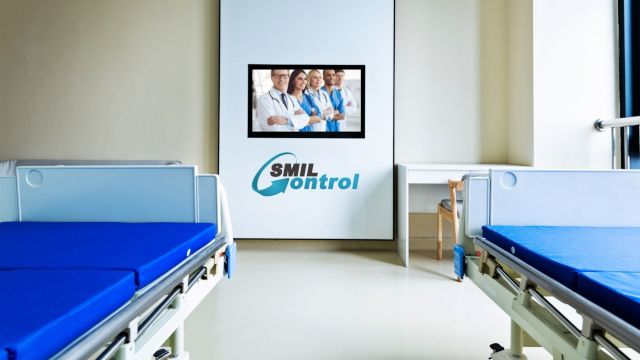 A feature of medical facility operations is the rapid change of events that require rapid notification of staff and patients. The introduction of digital information boards and screens provides opportunities to update and distribute content in real time in a centrally managed manner. Digital technologies make it easier to provide visitors and patients with the information they need. Furthermore it optimizes management processes in the hospital sector.
Digital Signage in Hospitals - Why does it fit together?
Advancing digitalization and increasing networking in healthcare (Healthcare 4.0) are providing new food for thought and opening up a host of new opportunities.
In recent years, digital signage solutions have become one of the most effective tools healthcare providers can use to improve the patient experience. Many leading healthcare facilities that have already deployed digital signage solutions have confirmed that they not only help reduce stress, but also help hospitals streamline processes, provide the highest quality of service and increase profitability.
In this way, hospitals use digital signage as a wayfinding system or as a room booking system. Digital signage is also increasingly used in hospitals for internal as well as external communication and as an emergency management tool to continuously improve employee as well as visitor and patient satisfaction.
How can Digital Signage be used in the Hospital?
The introduction of the E-Health Act is intended to ensure the path towards the widespread introduction of secure digital communication as well as the use of applications up to the IT-supported and paperless hospital in the healthcare sector in order to improve patient care. Digital signage systems can support this disruptive process and offer many possible applications in the hospital sector today.
Exterior
Digital signage systems are already helping in the outdoor area so that visitors can find their way from the parking lot to the hospital entrance through intelligent digital signage. Site maps with designated departments and entrance numbers superimposed on display monitors in the parking lot area help visitors find their way quickly. In addition, the display units stationed in the outdoor areas are also very important because compliance with hygiene regulations can already be pointed out there to minimize the risk of infection from infectious diseases.
Dank der digitalen Zutrittskontrollsysteme im Eingangsbereich kann das Besuchermanagement optimal gesteuert werden. Bei Überschreitung der maximal zulässigen Personenanzahl im Krankenhaus informieren die im Außenbereich platzierten Anzeigemonitore die Besucher über die Beschränkung des Zugangs und eine voraussichtliche Verlängerung der Wartezeit.
Interior
Hospitals have dozens of units and departments that are not always easy to find and can confuse many a visitor or patient. The already often challenging and stressful experience of being in a hospital only adds to this negative feeling. One remedy is digital signage and wayfinding systems. Digital door signs installed in high-traffic areas such as at reception desks, in waiting areas as well as central lobbies allows visitors to search for relevant departments and find the best route.
Inside a hospital, digital signage info systems are used to educate visitors and patients about hygiene measures. In waiting areas equipped with a ticketing system, digital display boards indicate when it is a patient's turn.
Often, the screens are combined with useful information such as daily news in addition to information about the hospital stay, making the subjective waiting time seem more bearable and providing relaxation while waiting. Digital signage solutions offer the possibility of digitizing bulletin boards, bulletin boards or other display boards.
Emergency Management
Hospitals often house a large number of people who need to be informed quickly in the event of an emergency situation. Therefore, a reliable and optimally functioning emergency management system is essential. A centrally controlled audiovisual digital signage system, in combination with a hospital's alarm system, can quickly and effectively provide those present with necessary information, ranging from instructions on the correct way to take medication to rules of conduct in the event of an emergency. The central system is able to synchronize all devices in just a fraction of a second and coordinate visitors in the best possible way.
Patient Communication
The use cases in the field of patient communication are manifold.
Technical equipment and service standards
Digital signage devices inform visitors and patients of a medical facility about modern technical equipment and high service standards by playing informational videos that show the use of existing equipment and work practices.
Clinical Information
Displaying information about the clinic helps visitors find their way around an unfamiliar building and quickly reach the necessary offices or wards. Customers can also be informed about specialists' schedules and available office hours.
New Treatments and Safety Measures
.
Digital signage systems can provide information about new treatments and existing safety measures. The information can be updated and displayed as needed with just a few clicks.
Waiting Times
Installing digital screens in a hospital's waiting area and introducing an electronic queue makes it possible to display on the screen the patient's admission time by treating physicians and the approximate waiting time for the patient. This provides transparency and minimizes negative emotions of patients during the waiting time.
Employee Communication
Placing digital screens in rest areas, receptions and laboratories improves communication with staff. This makes it possible to share experiences and draw attention to focus topics such as corporate culture, careful use of resources. Thanks to the digital display monitors, staff in the clinic area can be informed about new work processes, upcoming events, training opportunities or changes to shift schedules.
Room Booking Systems
Interactive and intelligent room booking systems enable meeting rooms to be used more efficiently. Battery-powered display solutions are flexible and economical to use, as they require no structural changes. Thanks to the connection to the company's Active Directory and access to reservation times, any authorized employee can make a reservation via the display board at any time, in addition to viewing the occupancy.
What are the Benefits to Hospitals of a Digital Signage Solution?
A standards-based digital signage solution in the complete hospital area not only simplifies the implementation of the system. It also saves costs due to synergy effects and low maintenance costs through uniform software and hardware equipment. Through interfaces, it works hand in hand with other hospital-specific software solutions and completes the digitization of modern treatment.
Digital signage in healthcare is an important tool for improving the experience of patients, visitors and hospital staff. With the help of a well-designed communication strategy, digital signage significantly improves and enhances patient care and satisfaction. The following key benefits can be summarized on how digital signage technology and centralized content management system on digital devices can support a hospital:
Improve image as well as presentation of services in the clinic sector
optimize the quality of communication with the target group
Reduce costs and increase profitability of the healthcare facility
change the perceptual atmosphere of the clinic in a positive way
implement interactive content and use multi-channels
Digital signage is becoming increasingly popular in healthcare to both satisfy patients and increase the level of service. The trend towards networking and digitization offers hospitals an opportunity to stand out from the competition and prepare for the future through the use of digital signage systems.