Towards a great partnership
Are you a system integrator or advertising marketer?
Are you looking for a digital signage solution without having to spend too much on in-house development?
You have looked around the market, but the offered systems are not flexible enough for your needs and leave you little freedom?
We provide you with a full-fledged Reseller solution, among other things:
White Label
This allows you to use the CMS entirely in your design and layout. Together with a domain available for you, "your individual SmilControl" can be seamlessly integrated into your product portfolio.
Samples of our customers:
Multi-client capability
SmilControl is multi-client-friendly. It allows customers and content not to mix up. In addition to that, you can manage all your customers separately without having to go to a lot of trouble.
You got to choose the perfect templates for your customers, grant access to different users and chose who gets access to what content.
If you go ahead with this, it's especially easy to provide exceptional content, channels or feeds to your customers.
License management
To bill your customers in the best possible manner, SmilControl CMS gives you the facility of flexible license administration. You can create licenses, extend licenses or add filters to make your search easier and more manageable. When done, you can export this data in CVS format when needed.
Player groups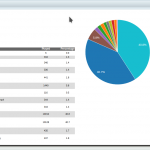 Group your players in SmilControl CMS to implement firmware updates more efficiently. Statistics groups are also a popular reason for grouping. Here, we combine the playback statistics of several players automatically. In this way, you are able to determine how often a spot is displayed in a certain region. The interactive pie chart helps you to get a quick overview. Both the analysis and the raw data can be exported in a CSV format by default if required.

Nothing prevents you from using your own analysis tools. We believe in transparency!
Specifics
In addition to all this, SmilControl offers more features for you as a reseller.
For instance, you can limit your content on playlists. After you're done compiling a playlist for your customer, you can set a time limit on it, and your customer will only be able to modify that playlist up till the time that you have allowed him to manipulate.
This feature is especially helpful for distributing ad-supported programs.
Furthermore, with the voucher codes module, SmilControl offers the possibility to use vouchers for special campaigns.
Curious?
If you are interested in a reseller solution, you can contact us whenever you want.
We have our roots in this sector, and we be able to support you in the implementation of your enterprise. Together we can build a creative and sustainable experience for your customers.