Hotel
Digital Signage in the Hotel Industry
Do you investigate options for improving service and management at your hotel?
Digital signage is the most appropriate digital business solution for use at the front desk, lobby, conference rooms, elevators, and hotel rooms.
In this article, you will learn how digital signage supports hotel management and what possible use cases are existing for hotels.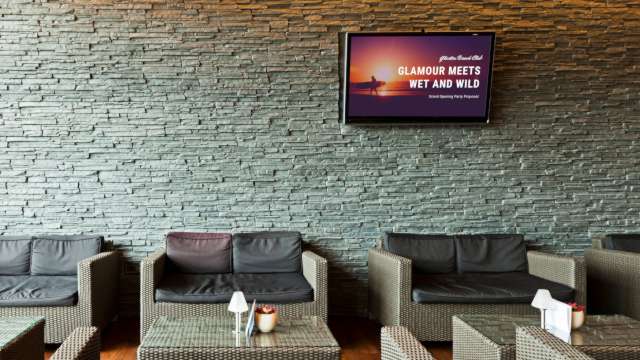 How do you use Digital Signage in the Hospitality Industry?
In the modern world, information changes every second. This makes it all the more important to provide hotel guests with services that are always up-to-date and relevant. An essential part of modern hotel management consists of Digital Screens and Digital Signs.
Competent and targeted communication with customers in the hospitality industry has a direct impact on revenue. Your customers want to spend their time in the hotel as good as possible. Informing them in a timely and unobtrusive manner about additional services, events and dining offers in the restaurant is the key.
A hotel has a variety of suitable places where monitors can be placed: Reception, swimming pools, SPA areas, bars as well as meeting rooms. Digital screens and digital showcases have the characteristics of attracting and influencing the attention of customers from the very first moment thanks to the display of animations, videos and attractively designed content.
Thus, information relevant to the guest can be broadcast simultaneously in different areas of the hotel. This usually works when using special digital signage software and hardware that allows the content to be quickly and easily updated and placed on specific display monitors. Digital signage, when combined with a content management system, is a powerful hotel communication tool that is suitable for both: large hotel chains and small hotel operations.
Overview of the possible uses of digital signage in hotels:
A convenient navigation system for events in the hotel
Welcome customers and manage room reservations
Publicate relevant guest information quickly and easily
Provide information about special offers and promotions
Publish menu and combine with current offers
Digital Way Finding System
Large hotel complexes quickly feel like a maze to guests due to the multitude of nearly identical hallways, rooms, and areas. This makes it all the more important to offer customers a tool for navigating the hotel grounds. A digital display solution offers good opportunities to inform guests about their location within the hotel infrastructure. At the same time, it provides an overview of other important locations. On the digital display panels or information terminals, a map showing the current location can be very helpful.
Hubs, lobby areas or places in front of elevators are excellent places to set up the map. Thanks to an interactive map, guests can immediately see where they are in the building and how to get to their destination. As with Google Maps, you can enter starting coordinates in this map and the system shows the shortest route to the destination. In addition, the maps include other useful information such as opening hours of restaurants and important information on everything from how to use the hotel to scheduled events.
You can find out how easy it is to implement something like this with our system below.
Digital Visitor Greeting
Hotel operators use a variety of ways to attract guests and convince them of the high standard of service. This includes the use of innovative display solutions such as digital signage. An interactive digital signage totem in the lobby or at the reception, in with the right software, becomes a crowd puller and sets your hotel above the competition.
The way customers are welcomed speaks highly of the hotel's style and reputation. Because, as is so often the case, first impressions matter. This is precisely where a digital info point and welcome display come in. Upon entering the lobby, they welcome all guests with a digital greeting in their own language.
Self-Service Check-in
Using digital signage also makes the hotel staff's job easier. Speed up check-in with digital screens placed in the lobby area that display all the information needed. Interactive self-service terminals are especially useful at busy times. Guests don't have to wait for their questions about to be answered by hotel staff. The staff thus relieved can attend to their guests all the more intensively.
Digital display solution in the fitness area
With the operation of fitness areas and sports facilities, many hotels are expanding their services. This offers sports opportunities to their guests and increases the attractiveness of the hotel. Modern hotels usually use digital audiovisual equipment and display monitors in their fitness rooms. Digital multimedia systems in the fitness area are just as important as high-quality equipment and a good range of courses. Here, digital signage display monitors are used as both entertainment and information media.
Entertain or inform their guests through the screens about course times, sports offers, current news or important sports events. For the treadmill, stepper or trim bike, this provides a welcome change. Place other hotel services such as SPA or massage offers discreetly in this area. Digital screens can also be used as a platform for so-called DOOH advertising (Digital-Out-Of-Home). Display suitable advertising offers from third-party companies such as from the sports and wellness sector or advertise products from cooperation companies. Thus, advertising from the Out-Of-Home segment generates additional revenue streams for the hotel and reduces operating costs for the fitness club and sports facilities.
Elevator information
Large hotels with multiple floors often have multiple elevators that hotel guests use frequently. Elevators are perfect for placing digital info displays there. In the elevators, you can often find digital info displays that show advertising content or important information around operations within the hotel. Typically, this includes content such as opening hours for bars, restaurants, nightclubs or other notices about upcoming events.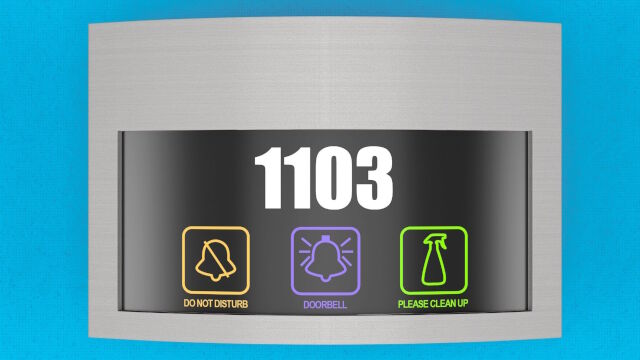 Digital Room Signage
Hotels are not only used for entertainment and leisure purposes, but also provide their premises for meetings, conferences, or celebrations. This offer is gladly accepted by local companies and private individuals. In this context, digital room signage plays a significant role in the hotel environment.
Digital door signs for meeting rooms or hotel rooms are cost-effective, environmentally friendly and offer a high degree of flexibility. That's because digital door signs don't have to be replaced like paper signs when an event ends. In addition, room signs can be centrally managed and always display the current status of the room occupancy.
This means hotel staff are always up-to-date on room bookings. Depending on the system version, even reservations of conference rooms by guests can be made online. An extended functionality is offered by doorplates for the hotel room, in which hotel guests can use digital doorplates to tell the service staff when they would like the room to be cleaned. Our partner digitalSIGNAGE.de offers special so-called multitouch signboards.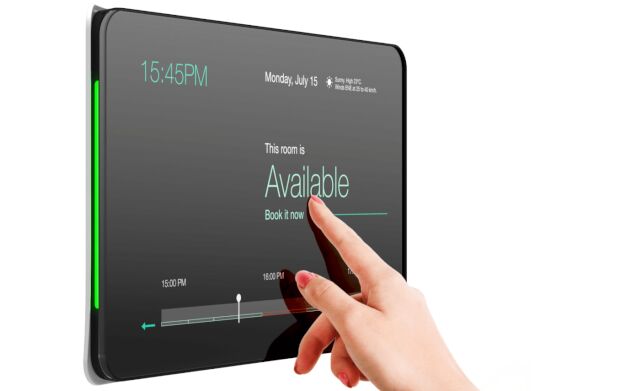 Lobby-TV
The reception and lobby are crucial during the guest's stay at the hotel. The visitor often spends time in the lobby, waiting for friends, visiting a restaurant, bar, or reception. Digital bulletin boards or information terminals placed in the lobby represent the focal point of the hotel. This is where hotel guests get information or relax. Used as lobby TV, digital screens perform well.
Possible applications in the lobby area:
Attractive and soothing video content
Placement of advertisements
News, weather forecasts, and flight schedules
Location-based visual effects and videos
Display information about weather, stock exchange prices and regional news on all screens according to a set schedule. The display of flight schedules in well-known international hotels, especially with proximity to the airport goes without saying. As a result, the guest does not feel snatched away from everyday life or annoyed by advertising, but feels additional comfort.
Bar-TV
Placing a digital signage system in a hotel bar brings several benefits. Digital screens stylize and enhance the look of the space. Monitors can be mounted as separate racks or placed on walls above the bar's corner.
This gives the bar a contemporary look. While the focus in the lobby area is on relaxation and information, in the bar the digital display monitors are primarily used to broadcast live sporting events, video shows and concerts. Modern systems are further capable of linking multiple video monitors into a single monitor. They optimize the customer experience, transforming a bar visit into a memorable event that attracts more patrons.
Thanks to centralized control and management of content on display monitors in the bar as well, hotel operators can use this channel to communicate with visitors and place offers for additional hotel services or advertising.
Conclusion
At the end of the day, all hotels want to make sure they are providing the best experience for their customers. Digital displays are the perfect way to achieve this. In addition to increasing efficiency, improving service quality, and easing the burden on staff, digital signage helps inform guests, break down language barriers, and entertain them. Digital signage is a forward-looking technology with growth potential.
Our Offer for Hotels
To centrally manage your hotel digital signage, you need a flexible management software. Events, for example, have an expiration date. Simply set the content in our CMS and determine the time period of playout.
Time Trigger
Interrupting the current program with so-called time triggers is also not a problem. Example: at 3 pm a certain seminar takes place. So fade in a note into the current program every 10min starting at 2pm. This way nobody will miss a seminar anymore.
External Applications
Further above we talked about way finding systems, room booking and digital room signage. As a rule, these are specialized applications. Typically, these require special and complex customizations to integrate transparently with a digital signage system. You may even need to sign non-disclosure agreements.
Through the unique implementation of so-called digital signage widgets, our software requires nothing of this nature. With a few simple steps, you turn HTML software into a widget that can be administered like a video or image within your playlist.