Digital Signage Playlists with SmilControl-CMS
In this tutorial we will cover the creation of digital signage playlists in SmilControl CMS. Of course you need access to our CMS. You can easily registern by yourself or contact us.
You will learn how to create a simple master playlist with SmilControl-CMS and assign it to a digital signage player. Furthermore, we will address the different insertable playlist elements. We will also explain the differences between playlist modes such as Master, Internal, Multizone, etc. .
Digital Signage Playlists
We organize our media content at SmilControl into so-called playlists. In abstract terms, these are "folders" or "containers" that store media elements such as images, audio and video. Furthermore you can nest our playlists. This enables you to clearly structurize your presentations.
Digital signage playlists differ from conventional playlists, e.g. in the VLC player or in Winamp, because they contain a lot of additional information. For example, how often individual elements can be repeated, at what times certain media can be played and much more.
The Playlist Overview
The Property Editor
Here you can set names and properties. You can assign a SmilControl playlist to the following mode/type:
Internal
Master
Multizone
Channel
External
Internal
These are the "normal" nestable playlists, which are not assignable directly to any player.
Master
This type is assignable to one or more players. You can fill a "Master" with content like an "Internal" playlist, but it is not allowed to nest it. In addition, you can use a "Master playlist" also in a zone of a multizone playlist.
The advandage: Some customers automatically change the display scheme several times during the day.
Multizone
Channel
This is not important to you at the moment and we only mention it here for the sake of completeness. Channel playlists are like internal playlists, but we use them as manually updatable channels in the channel management. Only administrators have the permission to process this playlist.
External
In this case, the "list" only contains an Internet address for digital signage playlists in the form of SMIL indexes on external servers. A SMIL index is what the player finally gets from the CMS and includes all playlist information.
The posting "Connecting Player with CMS" erklärt das detailierter.
Creation
In order not to go beyond the scope of this introduction, we will concentrate here on creating a simple master playlist. Click on "Master", enter any name and save the new list. Next, you will see the content editor. Now you can assign media elements to the newly created playlist.
Note: This is just a shortcut for newly created playlists.
If the playlist already exists and you have changed its name, for example, the CMS not redirect to the content editor after saving. In this case, you reach the playlist overview. You can access the content editor from there by clicking on the playlist name.
The Content Editor
The editor for content maintenance has two areas. On the right side is the vertical list of the current editable playlist. To the left is an area which displays the insertable elements. You can usually drag'n drop them from left to right into the playlist. We categorize these elements into 4 groups:
Media, external media, playlists, templates and channel subscriptions.
Media
External Media
This allows you to insert media items that are not hosted on the SmilControl servers. These could be, for example, websites, web streams or any pictures or videos on the Internet. For the category "external media", you must enter a network address. For example. https://smil-control.com or a stream like rtsp://184.72.239.149/vod/mp4:BigBuckBunny_175k.mov.
If your device also has video inputs such as composite, HDMI-in or similar, you can also set this here. For example, to display the program of a TV channel within your presentation. This has proven itself in the gastronomic sector during sporting events. The "external media" function gives you a great variety of freedom. For example, you can also refer to company-internal videos within your Intranet, that may not be accessible from the Internet. If your media player (which is the standard) is on your local network, it can reach this address.
Playlists
Templates
Available templates are displayed via this link. There are two types of templates: image templates and Web templates (HTML5). Web templates can only be displayed on appropriate devices. Usually all newer digital signage players should be able to display HTML5 web pages. Once a template is in the playlist, you can customize it using the "pencil icon" with text, images, and videos (Web templates only). For example, you can create a current daily offer for a product. We have provided some templates for demonstration purposes. Contact us as soon as you need specific templates in your CI for your signage project or want to create them yourself.
Channel Subscriptions
This category of playlist elements includes edited content. These can be automatically updating news feeds, local weather, pharmacy emergency services, etc. As soon as you drag a channel into a playlist, it will be subscribed to and your presentation will receive regular updates.
Providing the Master Playlist
Drag some content to your master playlist. The SmilControl CMS plays digital signage playlists from top to bottom. You can rearrange the playback order using Drag and Drop. The "trash can icon" deletes the corresponding element and the "wrench icon" opens a dialog box for further options. Since these options are very extensive, we will take a closer look at the different settings in a future tutorial. To activate the new playlist, press the red button "Save changes". The button will change its color from red to gray. Your playlist is now ready for play.
Assignment to a Media Player
You can find the player overview under the menu item "Player". If there is a player with a valid license, you can assign a master or multizone playlist to it. Click on the pencil button and type a letter that appears in the name of the playlist in the new editing field.
In the screenshot "Assignment of Digital Signage Playlists" you see a playlist called "Master" and another named "Multizone". As soon as we type "M", both are available. Click on the desired playlist in the so-called dropdown. This immediately assigns the list to the player.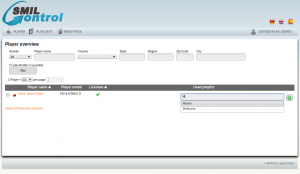 A hint! If the desired playlist does not appear there, please check in the playlist's property editor whether "Master" is actually set.
After a 15-minute period at the latest, your player should recognize the new assignment, download the content and start playing it.
Once you assigned a playlist, it is not possible to delete it or change its mode for security reasons. Of course, you are able to change name and continue to add and edit content.
We hope that this introduction helped you to create digital signage playlists. If you have any questions or comments, please do not hesitate to contact us.
---