Digital PoS
What is a Digital PoS
A digital PoS refers to a digitized point of sale. The term is an abbreviation for point of sale" or "point of service".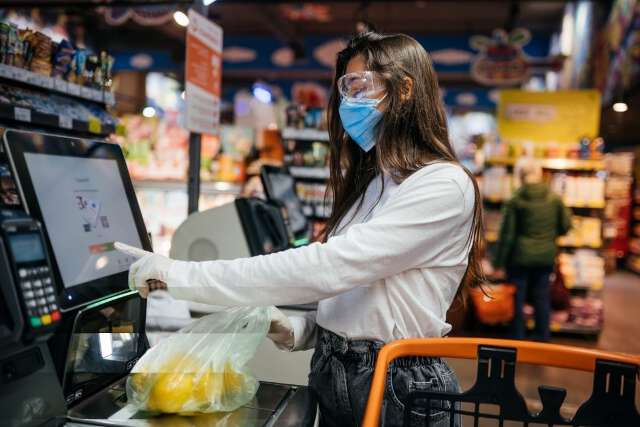 The terms cannot be clearly distinguished from each other. "Point of sale" refers to the point of sale. "Point of Service" describes more the complete sales process from order to invoice. We usually abbreviate both with PoS and use the term as a synonym.
The typical PoS includes, for example, the classic cash register in retail. But also the waiters or waitresses in the restaurant or the salesperson are part of it.
Digitization of the PoS includes, for example, tablets for sales, networked as well as fully automated checkout or ordering systems.
Advantages of a Digital PoS
Electronically Payment Process
Contactless payment via smartphone or credit card prevents the wrong change from being given out and makes theft a thing of the past. Digital signage offers the ideal solution here. The payment goes directly into the accounting system. You can display your sales at any time at the touch of a button. So digital payment systems not only offer the opportunity to minimize errors, but also to speed up the payment process and keep track of everything.
Connection via interfaces
Availability and prices no longer need to be obtained through lengthy inquiries. An interface to merchandise management provides this important data in seconds at the push of a button.
A successful sale is recorded promptly and processed quickly. Waiting times are reduced your customers will be happier.
You no longer hassle with expired food or shortages in delivery because the software reminds you to reorder in a timely manner.
Timely Update of Sales Material
Mobile tablets with Internet access are replacing thick product catalogs. Salespeople no longer laboriously search through thick tomes, but instead display the product on a slim tablet. Product updates are available immediately. As a result, the sales department works more efficiently and successfully with the digital solution and thus has an enormous advantage over the competition.
Virtual Product Demonstration
Salespeople present their products virtually on the digital display. The car in a different color? Configure the new kitchen directly from the furniture store? No problem! The different goods no longer necessarily all need to be right there in the store. Your customers get incentives to buy right on the screen because they not only see how the products look, but also how they are used and how they work.
Self-Service Checkouts
So-called self-scanning or self-checkout in retail reduces labor costs and frees up space. Two self-service checkouts typically replace one conventional cash register. When self-service checkouts are combined with conventional checkouts, smaller queues are created due to the fast checkout.
More effective Workflow
Digitally mapped sales processes save time, minimize communication errors and improve controlling. The captured order automatically finds its way to the next processing station. The Communication with the customer improves significantly.
Possible use cases of a Digital PoS
Furnishing Stores
Show your customers how his new bedroom or bathroom will look like. The virtual presentation makes it easier for the customer to imagine the new purchase. Interactive info terminals relieve your service staff, who can then take care of the customer more intensively. Digital signage at the PoS enhances your image and improves customer service.
Car Showrooms
Optimize your sales. Customers inform themselves at the interactive electronic displays located next to the vehicle in question. If they are interested, they will also request a salesperson via this device. The salesperson uses a tablet to create further incentives to buy by configuring and explaining their new vehicle together with the customer. Customers feel more involved. Digital signage thus offers various solutions and optimizes sales in car dealerships.
Supermarkets and Drug Stores
Self-service checkouts save on labor costs and speed up shopping. Checkout staff work more accurately and efficiently when they scan products using a barcode and the payment process is digitized. Retailers in particular can benefit from the symbiosis between digital signage and in so-called smart retail technologies.
Restaurants and Catering
Your employees record the requests of your guests with an electronic ordering device. Or the guest orders directly with the digital menu board. The order automatically reaches the kitchen and the cash register at the same time. The waitress can print out the receipt directly at the table.
There is more time for the guests. Calculation errors no longer occur. The kitchen understands the order and no longer needs to decipher handwritten hieroglyphics. The guest is happy that he receives his order faster and there are fewer misunderstandings.
The manager, on the other hand, gets an overview of current orders, sales, and his food inventory at the touch of a button. He can plan his purchases more efficiently and thus optimize his use of materials.
Check out the article digital signage in restaurants for more details and examples of practical use.
Our offer for your Digital PoS
Tablets and so-called signboards are usually suitable for talking to customers and taking orders. For the sales floor, chic indoor totems are a possibility.
Interfaces and interoperability are enormously important for digital PoS systems. Every company has individual structures and processes.
Our digital signage software is all based on the open industry standard SMIL without any compromises. This openness and transparency greatly simplify the collaboration of different components.
We are therefore able to implement your individual wishes in a cost-effective and uncomplicated way. For example, the data exchange with your CMS, CRM or enterprise resource planning.
Do you want to publish freshly designed product catalogs or offers simultaneously on your digital advertising displays?
Do you want to update your digital advertising displays and sales with new product data
All this is possible!
We are exactly the right people for "complicated" things. With us there has never been an according to the book!
You save money, time, and nerves. In addition, you invest in a future-proof system, which they can expand and adapt at any time.
Contact us and tell us about your challenges.