In-Store Marketing
What does In-Store Marketing means?
In-store marketing attempts to capture attention from customers which are already in the retail store.
Conventional forms of advertising have the task of getting customers to do something. In-store marketing represents the next step direct at PoS
These include, among others:
competent salespeople
promotional measures such as promotions and special offers
appealing ambiance
efficient store design
clear presentation of the goods
Instore marketing directly at the PoS combines these activities and is therefore becoming increasingly important. Successful in-store marketing positions the store, ensures an individual store design and therefore makes the shopping experience so unique.
Digital signage enriches the repertoire of measures.
Advantages of Digital Signage in In-Store Marketing
Promotional actions with video
What better way to explain the benefits of a product than with a demonstrative video film? Audio-visual advertising material acts as a sales stopper and is therefore more impressive than any poster. A video-based presentation of goods in the retail store can not only generate an spontaneous purchase, but also meet the customer's need for information.
Synergistic effects of advertising and ambiance
In-store screens can display advertising as well as change the ambience inside the store. For example, if you are selling swimwear, in-store marketing can create a summery ambience. In-store marketing can be changed depending on the time of day and can therefore be individualized.
Translucent OLED displays allow for stunning effects on doors. A projector transforms any surface to a screen.
Example Epson video on YouTube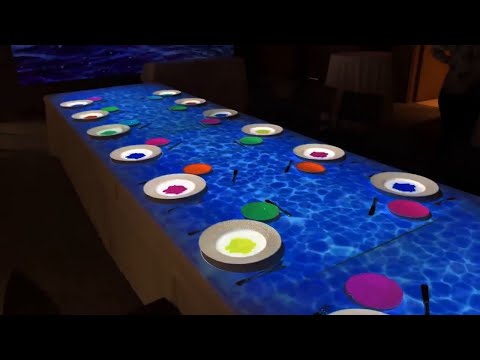 Reduce Waiting Periods
Customers bear queues better when they're entertained. The Digital Signage Today platform described in their article how digital signage reduces perceived wait times during the customers checkout.
Spontaneous Sells
Turn what should be unpleasant wait times into sales promotions and generate spontaneous sales. In a US study from 2010, 19% of all respondents said they spontaneously bought a product because it was presented on a screen. This means that targeted in-store marketing can generate corresponding sales. Classic example: A boutique spontaneously advertises umbrellas via its displays when it is raining. It is therefore an interchangeable, individual presentation of goods directly at the PoS.
Increase Dwell Time
People who feel comfortable in your premises will stay longer. Increasing the length of time customers stay in your retail store leads to a sustainable increase in sales.
Out-of-hours sales
With digital signage, customers can shop directly at the store front window via your online store outside of your opening hours. Likewise, ticket vending machines, tickets or concert tickets can be sold and printed around the clock.
Campaigns in Real-Time
Your campaigns can be automated or manually controlled at the touch of a button and can take place simultaneously in multiple locations. This allows you to reach more customers accordingly. This is a huge advantage for franchises with multiple operating locations. Digital ads can therefore be changed spontaneously.
In-store marketing use cases
Car Dealers
Satisfy your customers' need for information with interactive electronic car promoter. Your customers get information on their own and request a salesperson via touchscreen when needed.
Retail
Configure your in-store marketing to meet specific customer needs. Entertain your customers with an emotional presentation of goods. A store for outdoor articles, for example, has the possibility to show video footage of landscape & nature. A bicycle store, on the other hand, presents fast-paced mountain bike rides filmed with a head-mounted camera. Point out the new technology and draw attention to your products.
Your customers will stay longer and feel comfortable in your store. This is how you turn customers into potential buyers. The so-called Smart Retail, in which digital signage is prominently integrated, applies a range of techniques to optimize both and business processes.
Fast Food Chains
The menu and daily specials are clearly displayed on a digital menu board.
Interactive terminals with entertaining casual games at the tables shorten the waiting time of your customers at the PoS. They also allow your customers to write reviews. This not only provides you with valuable information about your external image, but also gives you possible suggestions for improvement. Each local store operator can also get a specific play time to add their special content to their playlist.
Hotel Rooms
Guide your guests through your hotel and the resort with atmospheric images. Communicate breakfast times and important phone numbers. Promote your restaurant and leisure offers. Refinance your system with cooperations together with local businesses and services.
Petrol Stations
Promote their products or services around the clock directly at the gas pump. Convert the cash dish into an advertising billboard. Remind them to check the oil and water levels, or draw their attention to mundane things like screwing the fuel cap back on.
Banks
Digital Signage in Banks informs your customers about current stock market trends or new banking products. Additionally, use your digital screens as a customer call system at busy branches. Highlight opening hours or events.
Pharmacies
Promote and inform seasonally and in an automated way. For example, provide cold remedies during flu season. Inform customers while they wait about helpful health tips. Display a fully automated pharmacy emergency service in the store window during and after your hours of operation to comply with legal requirements.
Shopping malls and department stores
Screens with way-finding systems on escalators or elevators help your customers find their way. Info terminals with touch technology provide information about the location of products on demand. Projectors throw messages or notices on the floor or on walls.
Supermarkets
Make your customers aware of products as they enter and take advantage of the opportunity for individual store design through targeted in-store marketing. Take the pressure off parents by playing short cartoons for the little ones. Display the price on an external checkout monitor for the customer to see. Motivate them to impulse purchases while waiting at the checkout. Satisfied customers give you regular sales and a good image.
Our offer for your In-Store Marketing
There are no limits to the use of audio-visual media. Projectors and large-area LED monitors are recommended for spacious rooms. Smaller units such as so-called signboards or tablets come into question for use on the shelf.
When used on touch displays, Garlic Player displays product specifications on touch or click and can log them separately for statistics.
The SmilControl CMS supports individual functionalities such as pharmacy emergency services, traffic information, call systems and more. Even a so-called customer stopper, which counts customers and prompts them to wait if necessary, is possible.
We have many years of experience in the field of custom applications and specialized programming for various industries.
You need multiple displays, but your business location unfortunately only has weak internet? With the dedicated digital signage reverse proxy Basil, you can efficiently save bandwidth. Despite this, you can provide each device with individual content.
Contact us for further questions.