Dooh
Digital Out of Home
Classic offline advertising is gradually dying out. The interest of advertising agencies to invest in huge advertising banners in the long term has been declining for years. This is because potential buyers no longer pay the necessary attention to advertising on billboards after only a short time.
Conventional outdoor advertising is increasingly being replaced by more advanced formats — Digital Out of Home (DOOH) advertising. DOOH advertising is one of the fastest growing advertising formats. In this article, you will learn everything you need to know about Digital Out of Home.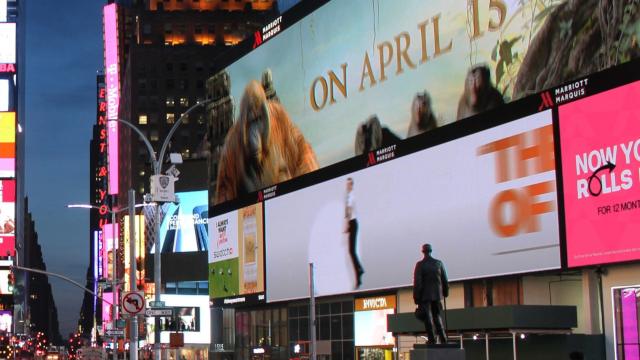 What is Digital Out of Home?
If you look around the downtown of a major city today, you will notice that outdoor advertising is also undergoing a digital transformation. Traditional billboard advertising is being replaced by digital out-of-home advertising in high-traffic locations such as train stations, airports, transit hubs, subways, and shopping centers.
The collective term for advertising on digital banners, as well as displays, is Digital Out of Home. But what is behind the DOOH definition?
Differences to the term OOH
From marketing, many are likely to be familiar with the term OOH (Out-of-Home) as a label for traditional general outdoor advertising. Digital Out of Home stands for digital outdoor advertising.
The core is to place the commercials, creatives and other forms of advertising on digital media: For example, on digital advertising spaces, large-scale LED screens and outdoor screens.
This type of advertising has a wide reach. It quickly attracts the attention of passers-by through interactive elements and moving images. DOOH marketing is can reach large coverage of potential buyers, promote a brand, and increase its awareness.
Example of a DOOH campaign
Modern digital signage solutions support DOOH with smart features based on artificial intelligence and Internet of Things. This technology opens up new ways for advertisers to reach target audiences with advertising messages more effectively than ever before.
An excellent example of a successful advertising campaign using Digital-Out-of-Home technology is the British Airways advertisement from 2014. At the time, the campaign was called "Magic of Flying". A huge digital billboard set up at key locations in London showed an animation of a boy standing up and pointing upwards as soon as a British Airways plane flew over the heads of passers-by.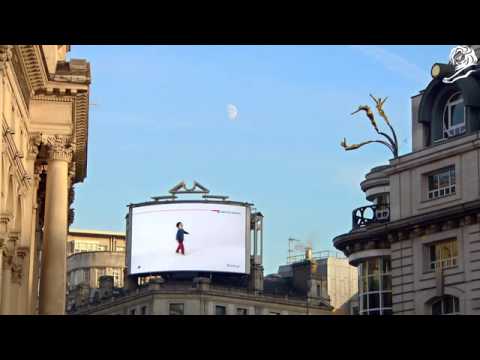 As the plane flew by, animations also showed its type, flight number, and destination or departure point. This advertising campaign by British Airways was a massive success at the time and has gone down in the history of the advertising industry. It is a wonderful example of the possibilities offered by DOOH advertising with cloud technology, Internet of Things, geodata as well as transponder data of an aircraft.
Digital Out of Home vs. Traditional Billboard Advertising
What are the differences between traditional billboard advertising and digital out-of-home advertising?
In contrast to billboard advertising, DOOH impresses with its versatility and good visibility. Modern technologies enable DOOH to interact with the target group and target advertising content to a specific audience. Any digital medium can have a built-in camera, for example, to count the passing crowd and analyze the reaction to the commercial shown.
Are people looking at the billboard? What emotions does the ad evoke on passersby's faces? Such data is particularly important for determining the accessibility and impact of the advertising on potential customers. In contrast, this cannot be realized with classic outdoor advertising. In addition, the use of video technology must always comply with local data protection laws (e.g., DSGVO in Germany).
Thanks to the networking of digital advertising billboards, the advertising strategy can be adapted at any time and integrated into other advertising campaigns, such as with smartphones or mobile DOOH on vehicles, regardless of time and location. What characterizes DOOH advertising, and what advantages and disadvantages does it offer compared to conventional billboard advertising?
Digital Out of Home Advantages/Disadvantages
DOOH advertising is incredibly flexible when combined with the latest digital signage technology. Media networks can deliver ads to places like shopping centers or subway stations, or display high-resolution animations on digital billboards at busy intersections. Digital out-of-home advertising can broadcast relevant content that matches the urban environment, attracting attention and evoking positive emotions.
Advantages:
Fast addressing of target groups due to dynamic, bright and high-contrast visualization options of the advertising
decreasing prices on digital LED displays
No printing and delivery logistics necessary
modern digital advertising walls convince with wide viewing angle, interactivity, and clear images
Through flexible planning and control, multiple target groups can be addressed at different times.
Information transmission possible regardless of time and place
Automatizability of the advertising shows
No limitation of the image quality, even in bad weather or strong sunlight
modern software and networking of display devices enables precise targeting and always helps to keep control over data of potential customers thanks to easy management
Disadvantages:
A full-fledged placement of digital out-of-home ads only makes sense in large cities. For a large targeting lacks sufficiently frequented places in small cities.
Watching many videos in a row can lead to distract the attention of potential customers
The digital devices need elaborate protection against hacking and vandalism
Too many digital billboards with flashy content can lead to confusion and light pollution
Classical billboard advertising advantages / disadvantages
Most people know it — the classic billboard advertising Out of Home (OOH). It can be seen on various billboards in the form of volumetric lettering or illuminated signs. We meet them on the street while we work or study, we see them in pedestrian zones and shopping malls. It is impossible to imagine a modern city without of home advertising. This makes outdoor advertising almost the most effective conventional advertising medium. What ensures the competitiveness of out of home marketing, and what are the disadvantages?
Advantages:
Great reach for advertising campaigns due to placement in multiple neighborhoods
by repeated viewing, advertising continues to have an effect in the subconscious
OOH marketing is less intrusive compared to TV advertising
Low investment costs compared to TV and radio advertising
mobile and flexible to use, e.g., on roofs, vehicles, or streetlamps
combinable with other advertising campaigns such as television or radio advertising
Disadvantages:
no tracking of target groups possible
great competition of out of home advertising due to an oversupply
unlit billboards are overlooked at night
Posters require logistics for printing and mounting
only static content possible without animations
Requires high creativity as people are less receptive to outdoor advertising due to oversupply
short contact with advertising. On average, a potential customer looks at the poster about 2 – 3 seconds. Advertising content must be selected carefully and must not be overloaded.
Due to high-demand and limited placement options, it is difficult to find a suitable place
What is Mobile Digital Out of Home?
In contrast to static outdoor advertising, mobile Digital Out-of-Home Advertising takes the approach of placing digital billboards on surfaces of transportation vehicles such as vehicles, trucks, vans, e-scooters and courier bikes. In this way, the advertising gets right to the potential customer, even in traffic-congested areas. Thanks to built-in GPS and cellular modules in the displays, the advertising strategy can be optimized at any time via an online advertising platform by specifying routes, changing advertisements to achieve maximum reach.
Digital outdoor advertising is going through the process of interconnection with digital technologies. This is happening against a backdrop of rapid digital innovations that are driving the emergence of new formats that improve the effectiveness of advertisers' communications with audiences on the go.
Subscribe to our Twitter channel, or follow us on LinkedIn, and get regular news about our releases.
---